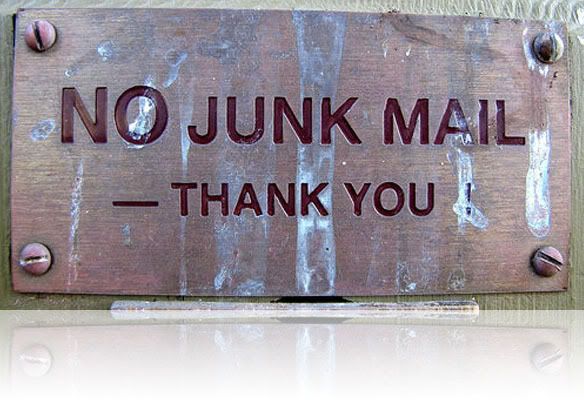 One of my evil adversaries in the decluttering war is .... PAPER! I cannot believe how much paper comes into my little apartment. Combine that with my total lack of organizational skills and the bad habit of just setting mail down wherever, it becomes quickly overwhelming. So, I am going through the paper, one stack at a time. I've got three boxes next to me:
One for recycling
One for shredding
One for things that need to be filed (of course I need to figure out exactly what needs to be kept and I need a good filing system. PLEASE give me ideas)
I cannot believe how much junk comes in through my mailbox. Sitting here looking at all of this cr*p, I almost feel violated. There are tons of those credit card application things, flyers, catalogs, requests for money from charities, and on and on.
I am determined to shrink the amount of mail that comes into my home. Here are some things that you can do to tame this "paper monster":


Stop junk mail from entering your home in the first place. There are several ways to go about this.


Go to http://www.optoutprescreen.com/ to get off of the credit card lists. This is supposed to be good for five years, at which time you need to renew your decision to "opt out".

Go to https://www.dmaconsumers.org/cgi/offmailing to get off of mailing lists. It costs $1.00 to remove your name and address from mailing lists and you can sign up online or by mail with their registration page.

Do what I did and sign up with Greendimes.com. They claim to be very effective at cutting out your junk mail by up to 90% and they plant a tree each month in your name. I did an online search before I signed up and didn't see anything that would raise red flags. You can stop the junk mail for up to 8 people living at one address. If you are receiving catalogs that you'd rather not get, there is a place for you to put in the titles and they will stopped as well. This service is $36 for one year but I signed up with them because I like what they are doing and want to support a group like this. EDIT: When I signed up with them, it was $36/year. However, I just got an email yesterday from greendimes telling me that they are issuing a $21.00 refund. The fee is now only $15.00 year.



Sign up for electronic statements


Go to your bank's website as well as the sites for your credit cards and find out if you can opt out of getting your statements in the mail each month. Most financial institutions now have the capability for customers to access the last several months worth of statements online. You would also be able to print out a particular statement if you needed to.




Keep your shredder handy.


No matter which method you choose to get off of mailing lists, it will take 2-3 months to really see the decrease in the amount of junk you receive. In the meantime, keeping your shredder (and recycling bin) handy and don't let your junk mail pile up. When you get the mail, open it up, decide if it is something that you need to act on or file. If not, and if there is any personal information on it, quickly shred it and put in the recycling bin anything that does not have to be shred.
I'm sure there are many other things that you can do regarding the clutter and waste that is junk mail. I would really love to hear ideas from other people out there. And I still really need ideas as to a good filing system and a system for dealing with bills. For too long I've had stacks here and there and have, I'm ashamed to admit, paid things late because of this. Please send any ideas my way so that I can improve in this area.